6 Nostalgic Winter Breakfast Recipes
Winter is a season full of activities that can bring you back to your favorite past times. With all the winter fun, you may be craving a warm, delicious, comforting meal to start off your morning! Check out these nostalgic winter breakfast recipes to bring you and your family together and bring memories back this winter!
Waffles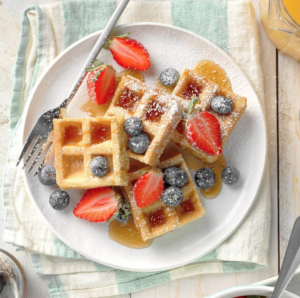 Waffles are a staple breakfast item, and they are sure to have you and your family feeling nostalgic. Whether you like plain waffles, flavored waffles, or waffles full of yummy toppings, this is a perfect breakfast option to please everyone in the family. 
Keep it simple and sweet as you dig into your original waffles with syrup, or add your favorite toppings to the batter such as chocolate chips or blueberries. Next, prepare the waffles, and add fruit, nuts, powdered sugar, and whipped cream to make your waffles ultimately delicious! With so many variations to choose from, it can be hard to find the perfect recipe! Check out this link to find your favorite waffle recipe.
https://www.tasteofhome.com/collection/waffle-recipes-worth-waking-up-for/.
French Toast & Bacon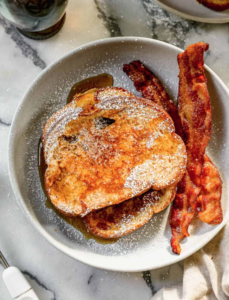 The saying, "if it isn't broken, don't fix it," definitely applies when making french toast! With a few simple ingredients and a small amount of time, you can have this delicious, classic french toast for breakfast to give you a taste of nostalgia! Preparing delicious meals does not have to be complicated! Simply follow this recipe to recreate this tasty treat:
https://tastesbetterfromscratch.com/classic-french-toast/. 
Caramel-Pecan Monkey Bread
Although this recipe takes a little bit more time, it will definitely be worth it! This sweet breakfast is best around the holiday and winter season or for special occasions. Enjoy this delicious monkey bread in the morning or for an afternoon pick-me-up! Take the time on a cold, gloomy winter morning to prepare this meal for you and your family to brighten your day!
https://www.tasteofhome.com/recipes/caramel-pecan-monkey-bread/
Hashbrown Breakfast Casserole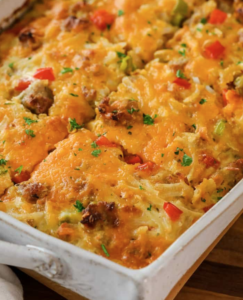 If you are looking for a more savory option, try this hashbrown breakfast casserole to start your day. Packed with protein, vegetables, cheese, and of course potatoes, this is an easy, but tasty meal to feed your entire family! Keep this recipe simple by using frozen hash browns and any vegetables you have on hand. With this casserole, you can make it your own by adding in your favorite types of meats, vegetables, and cheeses!
Breakfast Sandwiches
Another simple, yet fantastic breakfast option is breakfast sandwiches. These sandwiches can be made to everyone's liking so no one is grouchy early in the morning. Grab your favorite bagel, bread, or even an english muffin to start your creation. Add eggs, sausage, bacon, avocado, cheese, and more to your scrumptious sandwiches! Sit down with family and friends, grab a cup of coffee, and enjoy! 
Eggs, Bacon, & Biscuits
Last but not least, the best breakfast to bring back nostalgic memories is simply eggs, bacon, & biscuits! With this quick breakfast recipe, you will have time to sit down and enjoy this meal with family and friends in the morning. Stay warm while you enjoy a hot cup of coffee with a fluffy, buttermilk biscuit, and don't forget to add your favorite jams and jellies. Follow this recipe for your yummy biscuits: https://sugarspunrun.com/easy-homemade-biscuits/#recipe.
Next, prepare your eggs either scrambled or fried with your favorite toppings such as spinach, peppers, or cheese. Finally, grab a slice of bacon or two, or three, and sit back and enjoy! 
Contact Us 
With all these winter recipes keeping you warm, you want to ensure your heating system is also doing its job to keep you and your family comfortable this winter season. If you are seeing any signs of a faulty heating system, contact us at 256-841-6003 or visit our website at https://stricklinmechanical.com/ for heating maintenance, repairs, or replacements. You can also email us at [email protected]. 
We are your trusted American Standard Heating & Air Conditioning Dealer in Cullman, AL. Be sure to follow us on Facebook and Instagram! winter breakfast recipes winter breakfast recipes winter breakfast recipes winter breakfast recipes winter breakfast recipes