Holiday Decor Ideas to Make Your Home Cozy & Festive
Holiday decorating can become very overwhelming very quickly. With several things on your to-do list around the holidays, finding ways to decorate your home for the holidays can be stressful. However, there are some simple, yet aesthetically pleasing ways to add the perfect holiday decor to your home to ensure it is cozy and festive this holiday season. If you struggle with choosing decor for your home during the holidays, check out these ideas to make your home cozy and festive this December.
Blankets & Pillows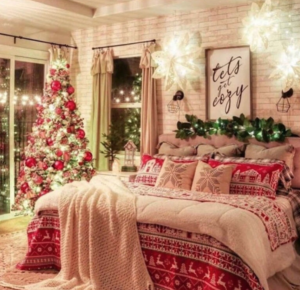 Photo by Kelseyraye
A simple touch to make your home feel cozy and festive is adding decorative blankets and pillows in your living room and bedrooms. Stick with holiday colors for your throws and find pillow cases or festive pillows to place in your rooms to add to your holiday aesthetic. Although simple, these decor items will tie the entire room together creating a festive feeling. 
Greenery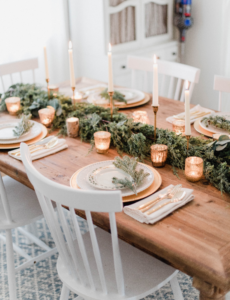 Photo by Lauren McBride
Dark green ferns, pine, juniper, and evergreens are all in season during the holidays, so they definitely add to the celebratory feel of the season. Use these greens around your home by adding wreaths to your doors, garland along staircases and across the mantle, and bushels for the centerpiece of your dining table. Put additional holiday plants around your home for festive yet cozy home decor options. 
Lights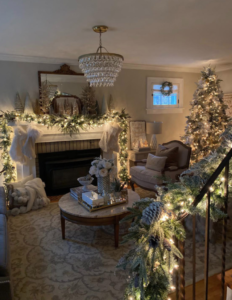 Photo by Michelle (MW Designs)
Adding holiday lights throughout your home can truly transform your space, giving off a calm Christmas vibe, or a celebratory, festive feel! If you want a calmer, more sophisticated atmosphere in your home, use white Christmas lights. If you want a more outgoing and fun feel, use colorful lights throughout your home. Add lights along staircases, around columns, across the mantle, around the outside of your home, and of course, on the Christmas tree! Lights will truly transform your space and even make it look Christmas-y from the outside!
Kitchen Accessories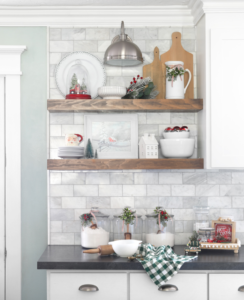 Photo by Jennifer (The Craft Patch)
To ensure the heart of your home feels festive, adding kitchen accessories such as holiday hand towels, dish towels, placemats, and rugs will be great additions to the decor in your home. Create a coffee or hot cocoa station with festive mugs and sweet treats! Add small holiday decorations such as small wintery trees or snowmen on your kitchen counters, breakfast nook, or kitchen table. Although small, these decor options will ensure you maintain your festive flow throughout your entire home.
Stay Warm & Cozy
With all the holiday decorating, the last step to ensuring your home stays cozy this holiday season is having a warm, comfortable home. Contact us for any maintenance for your HVAC system so you and your family can stay warm and cozy this December. 
Stricklin Mechanical is an award winning American Standard Heating and Air Conditioning contractor serving Cullman, AL and the surrounding area. We are a locally owned and family owned business. We are fully licensed and insured, and our technicians are factory trained to solve your heating and cooling issues. Please contact us for any of your heating or cooling needs.